Precision Thin Film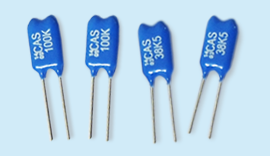 INTRON precision resistor are made by vacuum depositing a controlled film of NiCr on high purity alumina substrate. The resistors are formed using high resolution photolithography. The values are micro trimmed to the exact value with a tolerance of 0.05%. The TCR and tolerance is obtained by process capability and does not rely on a selection process. Precision Resistor sets matched to precise tolerance and TCR can be given.
Intron is high quality manufacturer of precision resistors and foil resistors distributer.
Features :
• High Precision: ± 0.05%, 0.1%, 0.2%, 0.5%, 1%
• Low Temperature Co-efficient: ± 5, ± 10, ± 15, ± 25 ppm/°C (tested between 25 , 75 & 125°C) • Wide Resistance Range:10Ω to 1MΩ with any odd value possible.
• Radial lead design: Lead pitch of 0.1", 0.2", 0.4" Lead frame design available on request.
• Wattage: 1/6W, 1/4W, 1/2W @ 70°C.
Applications :
Precision weighing scales, Temperature and Chart recorders, Calibration equipment, Testing and measuring equipment, High Precision amplifiers, Current Sensing, High end Audio equipment, etc.
Series
Product
Description
Resistance Range
Tolerance
TCR
ppm/°C
Rated Power @70°C
Datasheet
SCA
Radial lead, 0.1"Lead pitch
10Ω to 330KΩ
±0.05% to ±1%
±5 to ±50
0.16W
LSCA
Radial lead, 0.1"Lead pitch
10Ω to 330KΩ
±0.05% to ±1%
±5 to ±50
0.16W
SAA
Radial lead, 0.2"Lead pitch
10Ω to 1MΩ
±0.05% to ±1%
±5 to ±50
0.25W
LSAA
Radial lead, 0.2"Lead pitch
10Ω to 1MΩ
±0.05% to ±1%
±5 to ±50
0.25W
SMA
Radial lead, 0.4"Lead pitch
10Ω to 1MΩ
±0.05% to ±1%
±5 to ±50
0.25W
SDA
Radial lead, 0.4"Lead pitch
10Ω to 2.2MΩ
±0.05% to ±1%
±5 to ±50
1W