Encapsulated Precision Resistors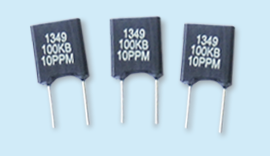 INTRON precision resistor are made by vacuum depositing a controlled film of NiCr on high purity alumina substrate. The resistors are formed using high resolution photolithography. The values are micro trimmed to the exact value with a tolerance of 0.05%. The TCR and tolerance is obtained by process capability and does not rely on a selection process. These resistors are encapsulated using epoxy making them more robust. Precision Resistor sets matched to precise tolerance and TCR can be given.
Features :
• Resistive Material : NiCr
• Substrate Material : Alumina
• Body : Epoxy Encapsulated
• Terminals : Tinned Copper wire
• Resistance Range : 10Ω to 1MΩ any odd value possible.
• High Precision : ±0.05%, ±0.1%, ±0.2%, ±0.5%, ±1%
• Low TCR : ±10, ±15, ±25 ppm/°C (tested between 25 , 75 & 125°C) ±5ppm/°C for values 100Ω to 100KΩ
Applications :
• Temperature and Chart recorder
• Testing and measuring equipment
• High Precision amplifiers
• High end Audio equipment
Series
Product
Description
Resistance Range
Tolerance
TCR
ppm/°C
Rated Power @70°C
Datasheet
AA
Termination resistor,
0.2" Lead pitch
10Ω to 1MΩ
±0.05% to ±1%
±3 to ±25
0.25W
BA
Termination resistor,
0.2" Lead pitch
10Ω to 1MΩ
±0.05% to ±1%
±3 to ±25
0.5W
MA
Axial lead
10Ω to 1MΩ
±0.05% to ±1%
±3 to ±25
0.25W
AX
Axial lead
10Ω to 1MΩ
±0.05% to ±1%
±3 to ±25
0.5W